"
Humble yourselves therefore under the mighty hand of God, that he may exalt you in due time: Casting all your care upon him; for he careth for you. Be sober, be vigilant; because your adversary the devil, as a roaring lion, walketh about, seeking whom he may devour: Whom resist stedfast in the faith, knowing that the same afflictions are accomplished in your brethren that are in the world. But the God of all grace, who hath called us unto his eternal glory by Christ Jesus, after that ye have suffered a while, make you perfect, stablish, strengthen, settle you. To him be glory and dominion for ever and ever. Amen.
" I Peter 5:6-11
In today's hurry up world it can be so easy to get caught up in the "I" factor. "I this, I that, I, I, I"
In reality though, everything we have, everything we possess, from our jobs, home, family, cars, stuff, it
all
belongs to God. He is the giver … of all. Everything we have, has been given to us by God.
When we find ourselves stepping out, away from God, and getting into that "I" factor,
one sure way to stay humble is to give thanks to God
each and every day for what He has given you. This is a wonderful way to start your day, and a very humbling way to end it too!
Other sure fire ways to remain humble before our Lord are through
reading His amazing Word every day
; there are a ton of devotionals out there available for free, to help you get into reading God's Word every day.
Going to a God-fearing, truth-preaching church on a regular basis is another great way to remain humble before the Lord. I love my church and my church family, honestly I don't know what I'd do with my time if I were not involved in our church. I do for the church as a service to God, which helps me stay grounded and humble before Him, but even if you don't have a desire to serve through the church,
attending church on a regular basis, hearing the Word and fellowshipping with other Christians regularly will keep you humble, and help you grow tremendously
.
A regular prayer life will also keep you humble before the Lord
, and there is no better way to release your burdens then taking them before the Lord. God is the best listener in the entire universe! He is available 24 hours a day, 7 days a week! He already knows your heart, so why not tell Him anyways? The Lord said for us to cast our burdens upon Him – I know I sleep a lot better at night when I talk to the Lord first! "
Casting all your care upon him; for he careth for you
" I Peter 5:7, and "
Come unto me, all ye that labour and are heavy laden, and I will give you rest. Take my yoke upon you, and learn of me; for I am meek and lowly in heart: and ye shall find rest unto your souls. For my yoke is easy, and my burden is light.
" Matthew 11:28-30
So, we can remain humble and grounded before God by giving thanks to Him every day, by reading His Word, attending regular church service and going to Him in prayer daily.
Life isn't easy, the Lord never said it would be, but,
we can make life more bearable by praising and glorifying our heavenly Father and giving Him all the glory for our lives, even in tribulation, every single day!
He strengthens us through His Word, and sanctifies us through the blood of His Son, Jesus Christ! God does care for us, He loves us, He sent His Son to die for us so that we might be saved. When we approach God, we are to approach His throne boldly, "

Let us therefore come boldly unto the throne of grace, that we may obtain mercy, and find grace to help in time of need.

" Hebrews 4:16.

Don't be like Peter, "

And Peter answered him and said, Lord, if it be thou, bid me come unto thee on the water. And he said,

Come

. And when Peter was come down out of the ship, he walked on the water, to go to Jesus. But when he saw the wind boisterous, he was afraid; and beginning to sink, he cried, saying, Lord, save me. And immediately Jesus stretched forth his hand, and caught him, and said unto him,

O thou of little faith, wherefore didst thou doubt

?", chin up! keep your eyes on Christ!
Other posts I think you'll love
Jenn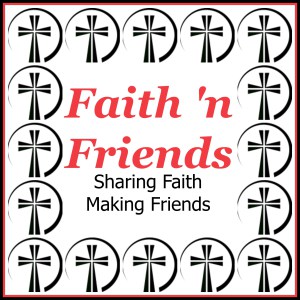 0